Sat 10 June – 10.00-12.00
All Welcome. For adults and children
Cardiff Steiner School, Hawthorn Road West, Llandaff North, Cardiff CF14 2FL [google map]
Curious about Steiner Early Years Education? Our Open Morning is a great opportunity to look around, meet the teachers, talk to parents and find out more about Steiner Education for age 3 to 6. Come along and experience the rhythm of a typical Kindergarten morning (see programme below). If you're wondering whether Cardiff Steiner School is right for your child, then Book your Open Morning now.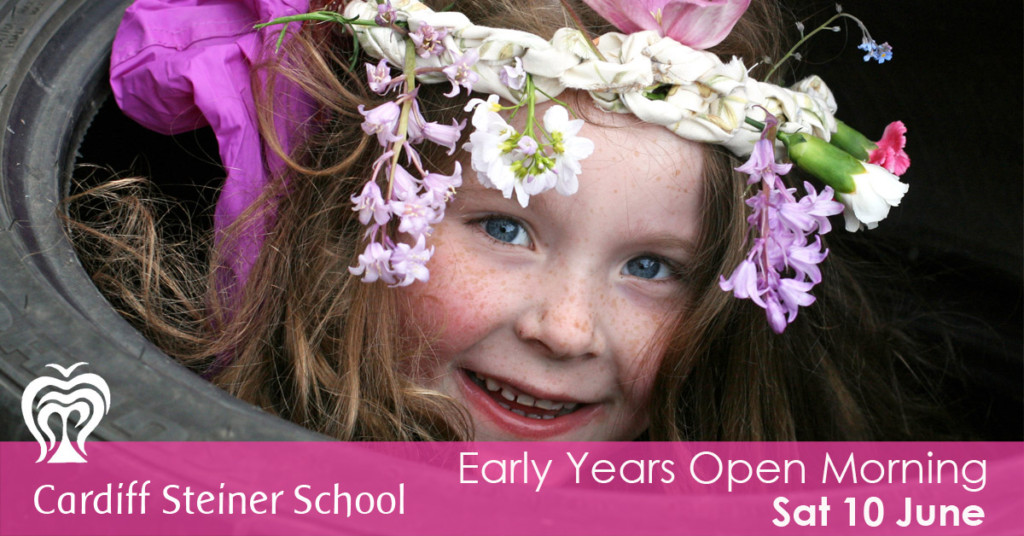 Programme
10.00-10.30 – Bread Making and Free Play
The smell of bread baking in the oven is familiar in Steiner Kindergartens around the world. As well as being a joyful, social and sensory experience, it's also an opportunity to do purposeful work which is deeply satisfying for the young child.
10.30-11.00 Early Years Talk / or Fruit Chopping
11.00-11.15 Tidy Up Time
The young child is naturally an imitator. We welcome and work with this ability by providing meaningful opportunities for imitation. Children willingly participate in this work with the adults around them, learning to do their fair share and help others.
11.15-11.30 Snack Time
Every morning in Kindergarten the children and teachers sit down together for substantial, healthy, organic food; dishes rich with plenty of vegetables, grains and fruit, which the children have helped prepare. For Open Day we have a simpler menu but the same opportunity to join in this important social time.
11.30-11.45 Join in our Kindergarten Ring-Time
With traditional songs, rhymes and games. Ring-Time cultivates children's natural love of words, while counting games and rhythmic activities build a solid foundation for number skills.
11.45-12.00 Watch a magical Kindergarten Puppet Story
Stories come from the different cultures and faiths of our Kindergarten children – offering a rich exposure to language, and helping focus your young child's memory and concentration.
12.00 End
Everyone is welcome, including friends, colleagues and the simply curious.
Join our e-newsletter and we'll email you to let you know about our all our Open Days and events.
For more information please just contact us.