What is Kindergarten?
Kindergarten offers an holistic and nurturing, Early Years Education for ages 3 to 6, covering the ages of pre-school/nursery, Reception and Year 1.
In an increasingly fast-paced world, we believe that an unhurried approach to early childhood offers the healthiest and strongest foundation for children's academic, social, and personal growth.
In line with Europe and 88% of nations worldwide regarding school starting age, our carefully designed, play-based programme builds foundational skills that allow children to flourish through school and beyond.
In the homely, caring environment of our Kindergarten, children are given the freedom to enjoy childhood. Your child learns through play, exploration and the world around them, discovering and developing without pressure, as their intellectual capacities naturally awaken. It's a gentle introduction to school and the wider world.
Who's it for?
Kindergarten is open for all children age 3 to 6. Children join our Kindergartens from a variety of settings for a unique Early Years Education they cannot find elsewhere.
For some it is their first step away from home and the family, others join us as a next step after nursery, childminders or other childcare.
Families choose us as a gentle introduction to school, and though most decide to stay on to our Lower School, we welcome children who plan to move on to their local or other school setting or home-schooling.
Kindergarten runs Monday to Friday 9.00-1.00, with optional Wraparound Care from 8.00 to 3.30, 4.30 or 6.00.
Flexible attendance with wraparound care. Prices from:
"It's a little haven where children have the opportunity to be free to explore their imagination… It just needs to be seen to be believed."
"My four year old son completely adores it. This is more significant because he was a very reluctant starter. The teachers were wonderful with him (and me!) as they eased us in gently. These people aren't here just to pay their bills, they're here because they believe in and love what they do. I wanted somewhere for my son where he could be happy and have the company of other children without academic pressure – I found all that here and more"
"Designed around children's needs. We have seen our daughter thrive in this kind, caring and stimulating environment. Everything is age-appropriate for the children, and not target-based. The emphasis is on creating an environment where each child can reach his or her full potential in a non-pressured, play-based way."
"I watch my daughter playing with a neighbour's child from another school. They both have the same materials, but my daughter is spreading paint, talking about what it means. The other girl is drawing a house, chimney etc and I'm suddenly aware that she's worrying about getting everything right, whereas my daughter has been freed to see whatever she wants to see in her work."
"It's a privilege to be involved closely with your child's education, for them to feel that this isn't just somewhere where you leave them but is somewhere that you are all connected to and have a presence."
"When he came home after the Michaelmas Festival I'm sure he was an inch taller, he was so happy and so pleased with his day. He stood proudly in his Autumn Leaf Crown and Golden Cloak and told me that it was 'the best day in Kindy ever'. Then his eyes opened wide and he said 'and we went into the 'Great Hall' and had a feast Mummy, it was real feast!'. Thank you for another wonderful day!"
" Kindergarten has taken me on a personal journey. I have been supported and guided by teachers and other mothers; offering me opportunities to grow as a mother and an individual. All the while knowing my daughter is happy, safe and respected."
"A wonderful, caring and creative environment. There were a lot of good play groups and reception classes in our area, but nothing compares to the kind of play I have seen in the Kindergarten. She adores her teachers and the imaginative play is echoed in her play at home and with other children."
"I like the seasonal approach – the way that songs, stories, activities and even food all tie in together. When they go outside it is an even more positive experience for them. This is particularly important for our city kids; the kindergarten experience reinforces their link with nature."
"I love how the child's development is thought of as a whole, rather than concentrating on one particular aspect. Our daughter benefits greatly from the multi-cultural understanding within the school, where everybody brings something of value to the mix. She is brimming over with creativity, which has been actively encouraged by her Steiner education."
The family atmosphere, mixed age group and small class size (just 16) of our Kindergartens give a deep sense of warmth and security where confidence and social skills thrive.
Children learn to play together, to work together and look after one another – developing empathy, cooperation, and self-reliance – vital building blocks for life success of all kinds.
Beautiful surroundings nourish your child's developing senses – soft pastel fabrics, vivid water colours, the touch of beeswax, the smell of crushed lavender. In free play with simple, natural materials a wooden bench becomes a rocket, plaited wool ropes are mermaid's hair.
This freedom to engage deeply in imaginative play is a wonderful gift – stimulating creative, inquiring minds that stay with our children for a lifetime.
Reassuring daily and weekly rhythms are the foundation for imitation and learning. Painting today, chopping vegetables for soup tomorrow, and, always, cleaning on Friday. By watching the adults busy at work children learn by seeing, doing and active participation.
Traditional songs, rhymes, and stories offer a rich exposure to language, cultivating children's natural love of words and focusing memory and concentration; while counting games and rhythmic activities build a solid foundation for number skills.
The natural world and outdoor play are a key part of Kindergarten life. The children play outside whatever the weather.
Well wrapped up against the cold, we walk and explore the local park. Outside there's space to run and skip, play in sand and mud and ride in a wheel-barrow.
Activities reflect the changing seasons and children celebrate a diversity of festivals throughout the year – developing a love and appreciation of nature, a sense of community and a rich inner life of feeling.
Playing, working, singing, dancing, making, exploring and story-telling – these are your child's experience of Kindergarten. Underpinning it all, the Teacher is expertly supporting their developmental needs, gently observing and encouraging them as understanding and inquiry grow – helping your child acquire the social, physical and intellectual foundation for future learning and life.
Our Kindergarten team are experienced, qualified and expert Steiner Early Years Teachers and Assistants, with a warm heart and strong collaborative spirit.
With some of our team having worked together since 1999, they bring a joyful balance of fresh practices and new ideas, combined with wisdom, experience and a deep understanding of the needs and nature of young children.
Find out more about our dedicated Early Years team below.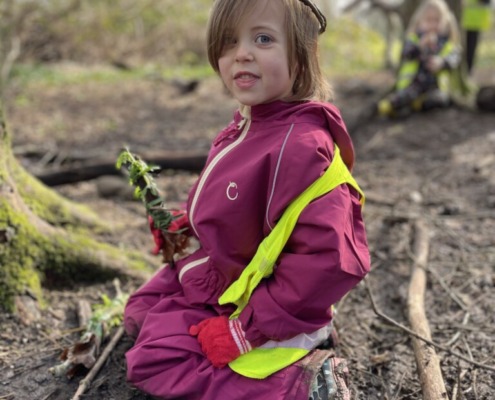 There's nothing like outdoor play in nature to build social and emotional skills. Find out how we use the outdoors as the most natural, collaborative social environment.
https://www.cardiffsteiner.org.uk/wp-content/uploads/2022/05/IMG-2753-002.jpg
1024
768
cs-admin
http://www.cardiffsteiner.org.uk/wp-content/uploads/2017/05/Cardiff-Steiner-School-Logo2linesmallershaded2.gif
cs-admin
2022-05-01 22:45:44
2022-05-01 22:51:04
Building Social and Emotional Skills in Nature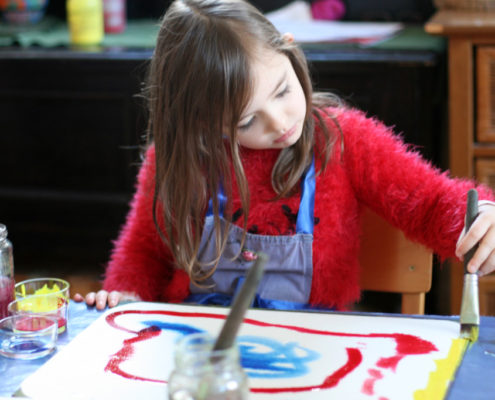 The beautiful colours and shapes of wet-on-wet painting are a distinctive feature of Steiner education which always catch the eye of visitors to a Steiner school.
https://www.cardiffsteiner.org.uk/wp-content/uploads/2017/04/2017-04-04-09.19.31.jpg
683
1024
cs-admin
http://www.cardiffsteiner.org.uk/wp-content/uploads/2017/05/Cardiff-Steiner-School-Logo2linesmallershaded2.gif
cs-admin
2022-04-26 23:48:00
2022-05-01 22:54:38
Wet-on-Wet Painting in Kindergarten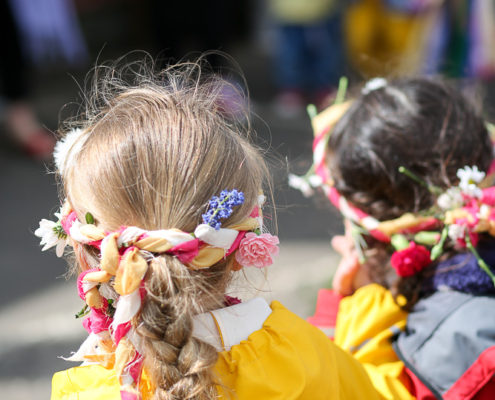 Our parents and families joined us to dance and sing around the Maypole, and share a picnic and story
https://www.cardiffsteiner.org.uk/wp-content/uploads/2017/05/05_05_17-2.jpg
1000
667
cs-admin
http://www.cardiffsteiner.org.uk/wp-content/uploads/2017/05/Cardiff-Steiner-School-Logo2linesmallershaded2.gif
cs-admin
2017-05-28 12:07:18
2022-05-01 21:36:24
Kindergarten May Festival
'Becoming' an introduction to Steiner Early Years Education
A beautiful look at Steiner Early Years Education (from birth to age 6) around the world shot in South Africa, Israel, Japan, India, South Africa, Guatemala, the Czech Republic, Switzerland and Germany [20:36 mins]