Kindergarten Application Process
We operate an "all year" admissions policy, where children aged 3 to 6 can join at any point throughout the year, depending on availability of spaces.
We accept applications at any time (from birth up). Because of growing numbers of applications, we recommend you apply as early as possible. You can visit before your child reaches 3 and join a waiting list for future admissions.
The application process is as follows:
Age and Attendance Criteria
Children need to be at least 3 years old when they start.
How many days?
Before your child reaches 'compulsory school age' (the term after a child's fifth birthday) children can attend Kindergarten part-time, from three to five mornings a week, from 9.00-1.00pm. This supports a gentle and gradual introduction for your child to School and the wider world. Flexible Wrapround Care is available from 8.00 to 3.30pm, 4.30pm or 6.00pm.
Once your child reaches 'compulsory school age' (the term after a child's fifth birthday) they attend Kindergarten five mornings a week, from 9.00-1.00pm.
We expect the following pattern of attendance:
Age 3 – a minimum of three mornings a week
Age 4  –  five mornings a week (with a minimum of four)
Age 5 and 6 – five mornings a week*
*Full-time education is a legal requirement for all children aged 5 to 18, either at school or otherwise. Full-time schooling in Kindergarten is 5 mornings a week.
1. Book a Visit
Book a Visit where you can find out more about Steiner Education, tour the School and see the Kindergartens and Classes in action.
2. Complete the Application Form
Complete and return the Application Form. There is no fee to do so, and no obligation to take your application further.
(If your child is younger than 2 ¾ we will put you on our waiting list and contact you in the term before your preferred start date to arrange a Taster Session and Parent Interview – see below).
3. Come for a Taster Morning
Come along to a Taster Morning where you and your child can join in and experience a full Kindergarten morning, and find out more about us and Steiner Education.
Taster Mornings are a free part of our Admissions Process and can help you and your child find out what to expect if they embark on the next stage of their educational journey with us.
Tasters are between 1 and 3 mornings depending on the age of your child, and help the teachers gain an all-round picture of each, individual child.
Parents usually stay with their child for the first morning, then discuss with the teacher what to do for any following days. Some children need their parents with them, some can go straight into the session unaccompanied. The age and previous school experience of your child will also be a determining factor.
We'll send you information before your Taster Morning to help you picture what you can expect to see and do with us. This way you'll be familiar with the daily rhythm and routine of Kindergarten, and be able to join in and feel a part of it.
Contact us to book your  Taster Morning and we'll arrange a date to suit you. We always recommend you Visit Us first before your child's Taster morning.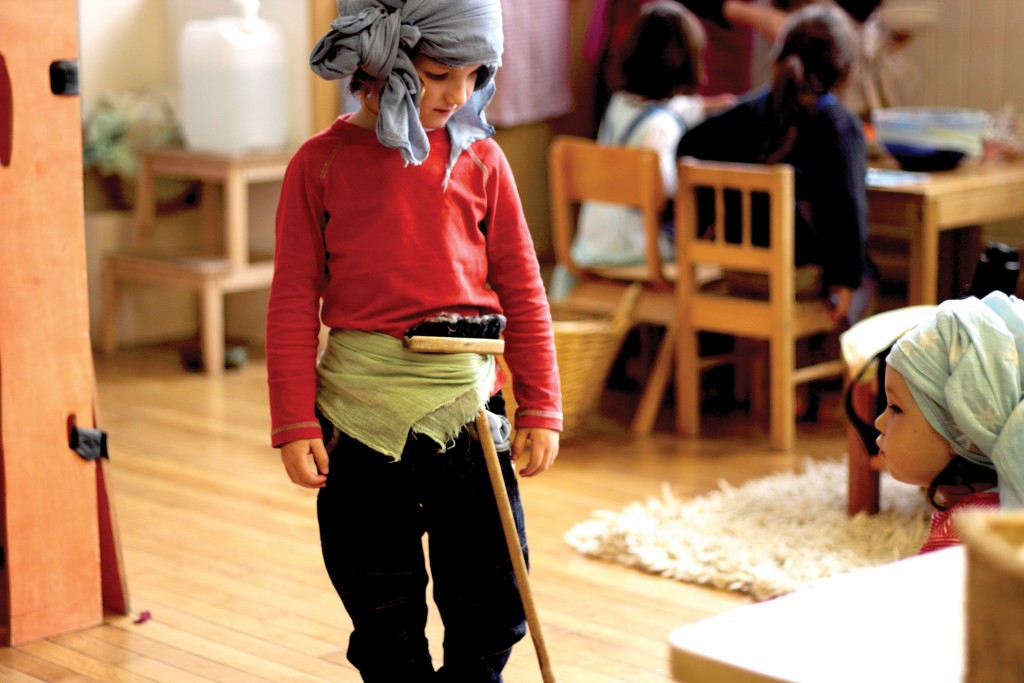 Following the Taster Morning the teachers will make a decision on admission.
4. Offer of a Place
Following a successful Taster Morning we will contact you with an Offer of a Place. You then fill in an Acceptance Form and pay a deposit of £300 to secure your place, and a non-refundable administration fee of £60 to facilitate the registration process.
The deposit is returnable when your child leaves the School as long as a full term's notice has been given in writing. (If we have no places available at this point we will put you on our waiting list, as unanticipated openings do occur during the year).
5. Parent Interview
We'll invite you to Parent Interview where you have the opportunity to discuss the admission of your child with their Teacher, and agree a start date and individual Settling In Process.
The Parent Interview is unique to Steiner Education. It's an opportunity for you and your Teacher to talk and get to know each other, and to build a comprehensive picture of your child and their development.
You'll also look in detail at the admission of your child, agreeing a start date and individual settling in process, an experience that is different for each child. Your Teacher will be able to suggest things to make this process easier if it is an area of concern for you.
The interview will cover pregnancy, birth and your first years with your child, and may discuss, among other things, sleeping patterns, siblings, dietary requirements, allergies, preferences and any specific information about your family you would like to share.
The conversation will be as detailed or as simple as you like. Your Teacher will also talk with you about how the School runs, how information is shared between School and home, and how you can get involved.
6. Registration
You will also have a Registration Interview with the Admissions Office where we go through a breakdown of your fees and payment and fill in the Registration Contract.
7. Settling In
Your child starts Kindergarten using the individual Settling In Process agreed with the Teacher.
You will have already been to see Kindergarten in action and met with the Teacher so will be familiar with our environment. Our experience shows that preparing to leave your child with us can be a nervous as well as exciting time for parents. If you are at all concerned, we will do the best to put your mind at ease. Find out more below.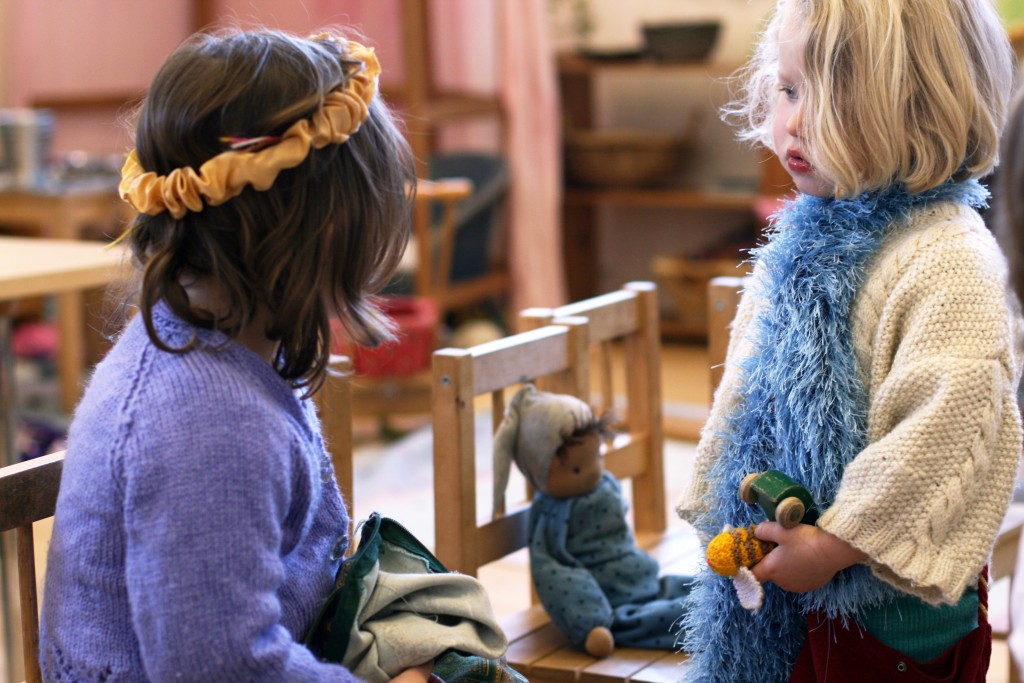 The parenting network is an intrinsic part of the School community, and we need your help in many aspects of the School's success. However, the Kindergarten rooms themselves are really for the children and the staff who care for them. It is good for the children to know that Kindergarten is a special place, just for them.
For this reason, we would suggest that when you begin Kindergarten, your first weeks would look something like the following:
On your first visit come with your child for one whole session. Stay, get busy, enjoy watching your child discover us. Join us in ring time, at snack, for outside play and also at story-time.
On your second session drop your child off at the beginning of the morning, and then choose your moment to leave. Come back in an hour and take him/her home.
The next time you would leave for a couple of hours and then come and fetch him/her.
Continue this until your child is with us for the whole session.
These stages can be repeated for as long as desired. Some children need a week or more of one hourly sessions; some can go straight into the next session for the duration, and many a combination. The age and previous school experience of your child will also be a determining factor. We will agree an individual process for your child, with you at your Parent Interview.
What is important is that you aren't tempted to 'just pop in' to see how your child is. This leads to unnecessary confusion for them. The teachers are very experienced at helping new children settle in and will try different ways to get them involved in the activities, as well as comforting and reassuring them.
We are very happy to talk over these options with you after your first session.
If you have any questions, please do not hesitate to contact Nicola Robinson in our Admissions Office, who will be pleased to help.
Kindergarten Application Pack
Please see the documents below for the full Applications Process: